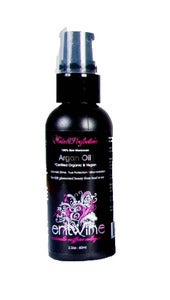 $

19.99
Entwine™ is the premiere line of salon-inspired, ultra-quality hair care and styling alternatives that brings a haute-couture approach to natural and transitioning hair care and styling. This designer collection features custom-made and artfully crafted formulas blended with rich exotic butters, pristine natural oils and luxurious conditioners that are finessed with 'real-world' holistic technology to enhance the healthy, beauty, and manageability of natural or transitioning hair.
The Naturalle Coiffure Collezioni consists of:
• "The Manipulator" Crème Jellé Styler- The Ultimate Natural Hair Style-, A flexible, re-definable styling crème-gel used to create long-lasting natural styles with no heavy build-up, flaking or hardness.
o Use to flat twist, two-strand twist, braid, wash-n-go, fingerstyle, flat iron or quick-sets
• "Indulgently Luxe" Exotique Butter Crème Hydrator- a daily moisturizing and conditioning crème featuring a custom Balsamic Butter-Oyl Blend™ of natural butters and oils with luxurious conditioner that hydrates and softens the driest natural hair.
o Apply prior to blow-drying hair to protect and moisturize or use to soften and moisturize all natural hair textures, twist outs, braid styles.
• "On the Edge" Crème De La Mold- A powerful holding and molding mud featuring Micro-Fibrous Holding Technology that provides long-lasting smoothing, molding and holding power with no flaking, tackiness or excessive buildup on natural, transitioning and loc'ed hair.
o Use to hold edges, smooth the nape of the neck or to mold the hair. Also use for loc formation and maintenance.
• "Total Perfection" Moroccan Argan Oil- 100% Raw and Vegan, this rare, organically grown oil provides ultra-hydration, true protection and sensual shine to the hair, skin and nails.